The Best Canadian Laptop,

PAYMENTS STARTING AT $9.65*

/Wk

&

FREE SHIPPING
By Making Successful On-Time Payments, You Could Build a Better Credit* Future.
Lenovo laptops are some of the most reliable, powerful, and versatile laptops on the market. Whether you're a student, a professional, or a gamer, Lenovo has a laptop for everyone. With their cutting-edge technology and sleek designs, Lenovo laptops are the perfect choice for anyone who needs a reliable and powerful laptop. Lenovo laptops are designed to meet the needs of a variety of users. Whether you're looking for a laptop for work, school, or entertainment, Lenovo has a laptop that fits your needs. For students, Lenovo offers a range of laptops with features such as long-lasting batteries, full HD displays, and powerful processors. For professionals, Lenovo laptops are designed to handle heavy workloads and multitasking. They come with features such as powerful processors, full HD displays, and long-lasting batteries. For gamers, Lenovo offers laptops with powerful graphics cards, large displays, and custom audio. Lenovo laptops also come with a range of features that make them stand out from the rest. One of the most unique features of Lenovo laptops is their wide range of customization options. With Lenovo's Vantage software, you can customize your laptop's performance and settings to get the most out of your device. You can also customize the our financing options to suit your personal credit situation.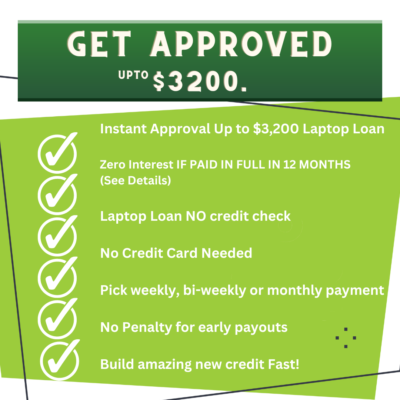 Good credit, bad credit or trying to build new credit? 
Free OMNI-LOCK feature with Omni-Care Warranty
All Payments Reported to a National Credit Bureau Monthly.By Making Successful On-Time Payments, You Could Build a Better Credit* Future.
SEE OUR CUSTOMERS REVIEWS'

No Prepayment Penalty Pay your balance in full anytime without penalty. You can make additional payments or increase your payment amount. The sooner you pay down your balance, the quicker you'll have credit for a new purchase – Vic S.
I recently got married and my credit was a mess. Omni loans got me the laptop within the same day that I really needed. The process was quick and simple. Thanks to Liquidationsite, really appreciate your service. You were there when I needed – 
Sarah G
My son badly need a laptop for his school and Liquidationsite provided us the laptop. We are very happy on the quality and for the price. – Tony G.
We approved 100% of our customers for loan. All you need is a source of income and paying on time