The Best Canadian Laptop,

PAYMENTS STARTING AT $9.65*

/Wk

&

FREE SHIPPING
By Making Successful On-Time Payments, You Could Build a Better Credit* Future.
The Best Choice for the Tech Savvy The market is filled with laptops from different brands and models, but not all of them are created equal. When it comes to buying a reliable, affordable, and powerful laptop, Acer laptops are the way to go. Acer has been in the business of creating innovative and reliable products since 1976. This company is dedicated to making sure Canadian customers get the best value for their money when financing their laptop purchase. With that in mind, it's no wonder why Acer laptops remain one of the most popular choices among Laptop financing consumers. Acer laptops are known for their sleek design and powerful performance. They come in a variety of styles and sizes, making it easy to find the perfect laptop for your needs. Whether you're looking for a gaming laptop, a business laptop, or a casual laptop, Acer has something to offer everyone. One of the best things about Acer laptops is that they are incredibly affordable. You can find a great laptop without breaking the bank, and Acer offers competitive prices for their products. Acer also offers a wide range of accessories, including backpacks, cases, and covers, to help you customize your laptop.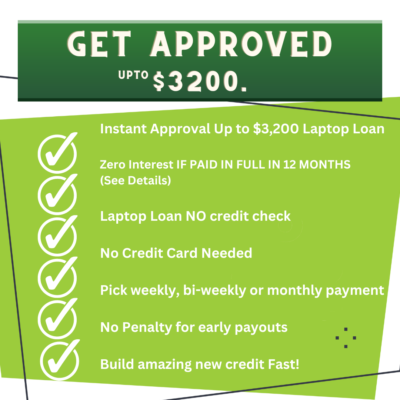 Good credit, bad credit or trying to build new credit? 
Free OMNI-LOCK feature with Omni-Care Warranty
All Payments Reported to a National Credit Bureau Monthly.By Making Successful On-Time Payments, You Could Build a Better Credit* Future.
SEE OUR CUSTOMERS REVIEWS'

No Prepayment Penalty Pay your balance in full anytime without penalty. You can make additional payments or increase your payment amount. The sooner you pay down your balance, the quicker you'll have credit for a new purchase – Vic S.
I recently got married and my credit was a mess. Omni loans got me the laptop within the same day that I really needed. The process was quick and simple. Thanks to Liquidationsite, really appreciate your service. You were there when I needed – 
Sarah G
My son badly need a laptop for his school and Liquidationsite provided us the laptop. We are very happy on the quality and for the price. – Tony G.
We approved 100% of our customers for loan. All you need is a source of income and paying on time